Podcast: Play in new window | Download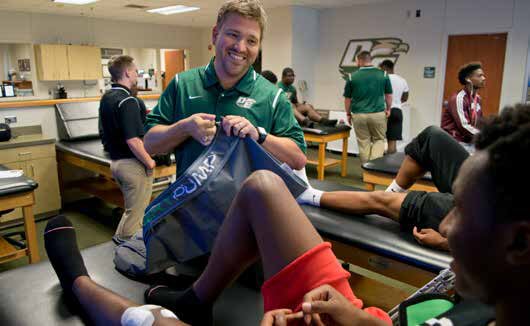 I want to convince my school board that intermediate / middle school athletes need full time athletic training services.  Injury evaluation, rehab plans, concussion management, proper handling of physical forms, injury prevention through proper weight training.  These are most of the points I have, but one of the topics that matters most to the district is cost and liability.
I have heard Dave Ramsey say that the person with the most knowledge and patience will usually win the negotiations.  This is our source of knowledge, and we basically have until I retire so patience may not be a factor either.
Scott Galloway leads the DeSoto Sports Medicine team where they currently have 7 staff athletic trainers.  You can read his bio and see all the things he has accomplished in Athletic Training, but basically he is a politician in Athletic Training form.
DeSoto ISD NATA News  Great article from Scott about improving your position
Dr. Josh Yellen, program Director at the University of Houston Masters of Athletic Training program and is also a member of the NATA Professional Responsibility Committee.
Do you desire to improve the level of care provided to your athletes by increase the number of qualified hands to treat injuries?  Listen to the show and let me know what you have done that works.
Thanks School Health and Frio Hydration for supporting the Sports Medicine Broadcast
MedBridge Education link to get you a discount